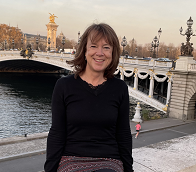 Samedi 6 Mai à 15h

Rencontre littéraire en anglais et français/in English and French
                                 Au Chapeau Rouge, Avignon
Come and meet British Author Ruth Druart, best-selling author, in a wide ranging discussion about her books, the writing and publishing process.
Ruth is the author of "The Last hours in Paris" and "While Paris slept" both set in the occupation during the second world war.
Venez rencontrer l'autrice britannique Ruth Druart, pour une discussion autour de ses livres best-sellers, le processus de l'écriture et de publication.
C'est sa vie à Paris, où Ruth habite depuis une trentaine d'années, qui a inspiré ses deux romans, "L'enfant du train" (2021) et "Les dernières heures" (2022). Ces deux livres ont pour cadre principal l'occupation de Paris, pendant la 2ème guerre mondiale.
25 et 34 Rue du Chapeau Rouge
84000 Avignon
Gratuit / Réservation conseillée au 04.90.84.04.03